Announcing our Cat Friendly Certification!
What is it? The American Animal Hospital Association (AAHA) and The American Association of Feline Practitioners (AAFP) have created a list of criteria that hospitals must meet to demonstrate high standards of veterinary care when it comes to feline patients. Cats are very different from dogs and don't enjoy car rides and meeting new people as much as some dogs. Sometimes the whole experience from carrier to vet and then back home is so stressful for both the cat owner and their pet that important things like yearly check-ups are skipped. Lakemont Veterinary Clinic is here to help change this and make sure your cat is getting care for the little things and the big things.
Let's take a tour of some aspects of our Feline Friendly hospital!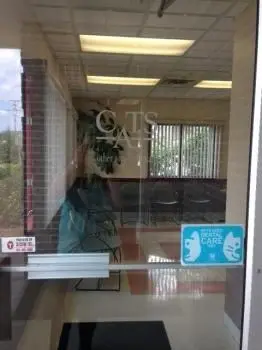 Welcome to the Cat Only waiting area! This exclusive waiting area is a unique feature to our hospital that we are so proud to provide to our feline patients. Dog sounds and smells are minimized to make the waiting process less stressful to allow your cat to relax and feel safe. There's no need to create added anxiety for your kitty when they come for their visit with a waiting room filled with barking dogs.
In the exam room we have a special set up just for cats. This includes a towel on the table for sensitive feet. This towel is sprayed with Feliway- a special pheromone to reduce stress in cats. As an added bonus, fun toys and kitty treats are offered for those ready to play!
Now on to the low stress exam. Depending on the comfort level of your cat, some exams are done inside the carrier (with the lid off) so that we don't have to force the patient from their hiding spot. We use treats to create a positive environment. Our staff at LCV went through special training to better understand feline behavior and stress triggers. Our whole team is focused on creating a better exam for your cat.
What if your cat needs to be admitted for surgery, diagnostics, or treatments? Don't worry, our staff and hospital are equipped to provide feline specific care while they are here. The Feliway pheromone is used on covers for kennels to decrease stress.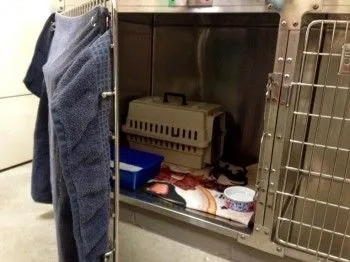 We have special equipment in our surgery suite to accommodate our feline patients such as special breathing tubes and anesthesia machine components. Additionally, our doctors practice top quality medicine when it comes to feline pain and utilize a variety of options for pre and post-surgical discomfort. Our surgery techs are certified to monitor your pet the entire time they are under sedation, anesthesia, and recovery. They are completely devoted to your cat's safety!
Each of our patients has a thorough medical record and professional care whether they are here for 20 minutes or 2 weeks. A thorough history, physical exam findings, diagnosis, and treatment plan are recorded for every visit. You won't find scarce, one-worded medical records here!
We have always strived to provide top quality care for our patients and we hope that you and your feline friends are just as excited as we are about our Cat Friendly Certification. Stop in or visit http://www.catvets.com/cfp/cat-owners/cat-owners-benefits to learn more!